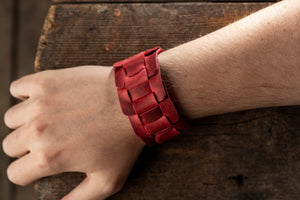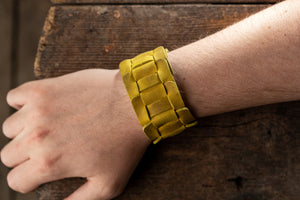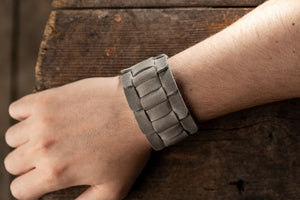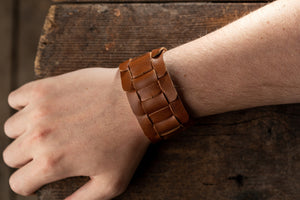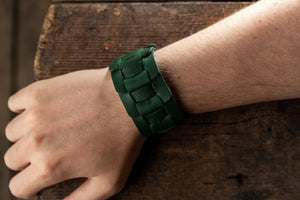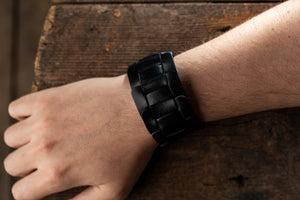 The first #elan bracelet is finally live! You already know that we do not deviate from our style so we will continue to adopt a minimalist and unisex design. The bracelet is suitable for both a sporty and a smart-casual outfit, depending on the type of leather you choose and the color, or the color combination.
One thing is clear, heads will turnk once you put it in your hand.
Tip: Don't worry about any scratches or bumps it may take. accessory! The nature of the skin is to adapt to them and to change your shade over time.
Tip : Show us what outfit the bracelet matches, sharing a picture on instagram with #elan, #boxerElan and @hashtag.elan .
Specs and numbers:
handmade in our workshop in Bucharest
width 4cm
variable length, from 16 to 21cm
minimalist concept
Thanks for this wonderful product. The quality is exceptional and the workmanship fantastic. Keep up the good work guys!
Andrei N.
Very good quality / price ratio. Compact. "Just poifect."
Stefan M.
I am very satisfied with the products. They were delivered on time, the presentation is wow and there is no discount on the quality of the materials
Carmen P.
ElanX - very good quality, very practical and FINALLY a small wallet that fits the Romanian bulletin and more. Extremely friendly and pleasant customer service and the "why" of the project made me an instant buyer. Thank you!
Radu P.
I've been looking on the net lately to change my wallet. Fortunately, after some searching, an advertisement appeared on Facebook for ELAN. I went and bought an ElanX. Super compact, looks different, interesting and high quality. I am very pleased!
Bogdan P.
I have the elanX Classic one, for a year now. The best wallet i have ever had. I recommend it all the way. Great quality and very practical.
Bogdan I.
The most stylish wallet I've ever had. Slim design, quality materials and so much attention to details. Impeccable customer care, they helped me with everything I needed. Totally recommend it!
Paul S.
"Thanks Mark Zuckerberg for showing me, in my News Feed, that sponsored story from E.L.A.N." * To be honest with myself and future clients, I didn't expect the #elanX wallet to be so good - roomy, but still slim. I warmly recommend E.L.A.N. Keep up the good work!
Radu O.
I received the Ella bag in February, and it's all I could have wanted from a bag. She is resilient, big, roomy, beautiful. The compartmentalization is perfect, I don't have to search endlessly for keys or phone. Quality materials, minimalist design, excellent. I searched a lot and bought many bags over time, but my search is over, and thank you from the bottom of my heart !!!
Bettina P.
The product was exactly as in the pictures / description, it came packaged as a gift in a paper with elks on it, a pleasant surprise!
Adrian V.
My wallet holds up very well. It's simple and elegant and has nothing to spoil it. By the way, after a few months, it starts to look even better.
Marian A.
Innovative design, quality materials, I love my new wallet, I'm sorry I have nothing to say .. maybe just that the status of the order is not very shown in real time, the wallet reached me in time ok.
Marius S.
I ordered for myself and my husband. The model is suitable for both men and women. Very modern and practical. Just like a wallet should be. Indeed, the bulletin comes in a little harder, but that's because it's new. After a few uses it behaves perfectly. Worth 5 stars. Recommended!
Carmina L.